Gear Up Your Business with Automated Business Solutions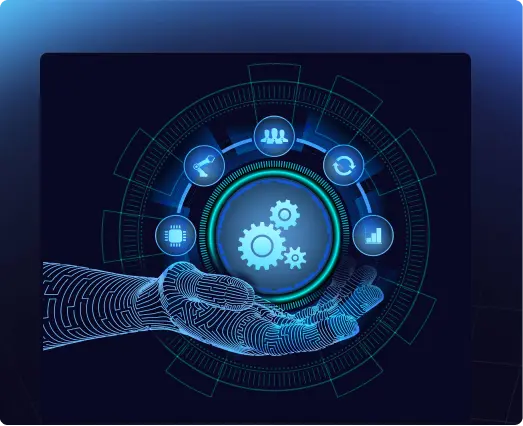 In today's dynamic business environment, automation is not just an option; it's a necessity for growth. SocialPie Technologies is your trusted partner in automating business processes and functions, reducing manual efforts, and paving the way for innovation and increased sales. Our automation tools and services empower you to do just that. With a focus on CRM automation, robotic process automation, mobile and website marketing automation, and more, we're here to optimize your processes, maximize efficiency, and drive your business to new heights.
Embrace Automation, Embrace Growth
In today's fast-paced business landscape, staying competitive and efficient is paramount. SocialPie Technologies offers cutting-edge business automation solutions that are the key to unlocking your company's growth potential. We understand that businesses must streamline operations, enhance productivity, and reduce manual efforts to thrive in the modern world.
67%
companies currently use business process automation
31%
Companies have fully automated at least one of their primary functions
70%
New business applications will use low-code/no-code technologies by 2025
24%
Companies have already implemented low-code process automation
Your Business, Our Automation Expertise
Social Pie Technologies offers comprehensive business automation solutions to streamline operations, enhance efficiency, and boost productivity. With a proven track record of delivering innovative software and technology solutions, Social Pie Technologies is ideal for businesses looking to optimize their processes and stay competitive in today's fast-paced market.
CRM Automation
Social Pie Technologies offers CRM automation solutions to modernize customer relationship management processes, improve efficiency, and enhance customer experiences for different scales businesses.
Workflow Automation Solution
At Social Pie Technologies, we specialize in automating workflows through pioneering automation solutions, enhancing efficiency, reducing manual efforts, and optimizing processes to drive business success.
Data integration Solutions
Social Pie Technologies excels in seamless data integration, fostering synergy between diverse datasets. Our professional ensures competent, secure, and compliant data unification, enhancing your organization's data automation decisions.
Security in Automation
At Social Pie Technologies, we prioritize robust security measures in our automation solutions. We safeguard your data and processes by employing front-line technologies, ensuring confidentiality and integrity.
Cloud Services and Products
Discover our comprehensive cloud services and products designed to automate your business operations to new heights. From scalable infrastructure solutions to cutting-edge data analytics, our offerings empower your organization with the tools it needs to thrive in the digital automation age.
Custom Solutions Automation
Discover our tailored Custom Solutions Automation services, meticulously designed to streamline your business automation processes. Our expert team at Social Pie Technologies crafts automation solutions with precision, efficiency, and scalability, ensuring your organization thrives in the modern corporate landscape. Experience the future of automation with us.
Looking for Tailor-Made Solutions for Your Business?
Leverage our expertise to gain new insights and create the ideal tech solution for your business.
Get In Touch